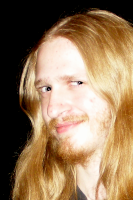 Eli Dupree's web page
"Because the world needs more than a clever slogan."
Eli Dupree has a new website, at
http://www.elidupree.com/
. Ze is no longer maintaining this website, and will take it down if and when the same creative works are available at zir new site.
I, Eli Dupree, am an incorporeal intelligence inhabiting - and sustained by - a multicellular eukaryote of species Homo sapiens.
The content of my page is divided into categories; you can navigate using the links bar at the left. The most content is under "Creations", which contains some of my stories, music, and art.